Product Description
This is Shandong Yinglang Chemical Co.ltd with self-support import and export rights, and its products are exported to developed countries such as Japan, South Korea, Europe and America. After years of development, the company's leading products are: biopharmaceutical series, pharmaceutical intermediates, chemical solvent series, flame retardant series, chemical reagent series, pigment fuel series, rubber and plastic series, active metal compounds. We provide 5-CHLORO-2-IODOANILINE to customers at home and abroad. If you are interested in it, please keep in touch with me. We will give you the best product at favorable price.
5-CHLORO-2-IODOANILINE Basic information
Product Name:5-CHLORO-2-IODOANILINE
CAS: 6828-35-9
MF: C6H5ClIN
MW: 253.47
5-CHLORO-2-IODOANILINE Structure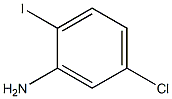 5-CHLORO-2-IODOANILINE Chemical Properties
Melting point: 40-42°C
Boiling point:295.8±25.0 °C(Predicted)
Density:2.015±0.06 g/cm3(Predicted)
Sensitivity: Light Sensitive
Flash point: 110 °C
pKa: 1.48±0.10(Predicted)

GHS


GHS05 GHS06
Signal word: Danger
Hazard statements: H301-H315-H318-H335-H302-H312-H319-H331
Precaution Statements: P304+P340-P405-P501a-P261-P280-P301+P310-P305+P351+P338

Hazardous Code: Xi,T
Risk Statements: 25-37/38-41-52/53
Safety Statements: 26-36/37/39-45-61
UN: 26-36/37/39-45-61
WGK Germany : 3
Hazard Note: Irritant
HazardClass:6.1

PackingGroup:III
The reasons of choosing us:
1. We specialize in chemical products for several years.
2. We can provide products with high quality at favorable price.
3. Packing as buyer's special request.
4. Good services after shippment.
http://www.sdylhgtrade.com